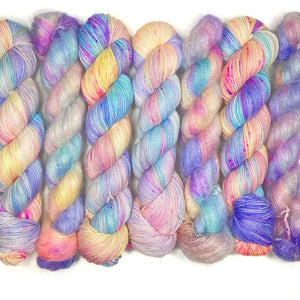 Sunset Shimmer- Mohair Stuff
 Sunset shimmer is pastel pink, purple, blue, and cream with neon purple speckles.
Lucy created this color by picking out her colors first and then drawing her vision on paper. This kids eye for color is pretty cool.
Base Info:
Mohair Stuff - Lace weight 72% Superkid Mohair 28% Mulberry Silk Yarn - 50g/459yds
Variegated

All hand dyed skeins vary slightly. 

 Hand wash in a cold water bath with wool wash. Lay flat to dry.