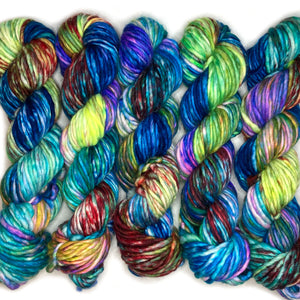 OHW #60 - Bulky Stuff
One Hit Wonder is exactly that, one of a kind, never can create again yarn. 



Product Description
Variegated blue, red, yellow, green,purple.
       Yarn weight: Bulky
Material: 100% Superwash Merino  – Single ply - 100g/76 yards
All hand-dyed yarn skeins vary slightly
How to wash & care for your yarn:
Superwash means you can machine wash, but we highly recommend hand wash in a cold water bath with wool wash.
Lay flat to dry.