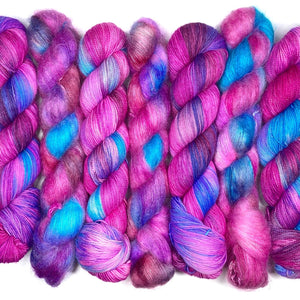 Lucy Hair Don't Care- Sparkle Sock Stuff - Pre-Order
Lucy hair don't care is variegated purples with a pop of blue.
Summer 2022 Lucy dyed her hair all of the same colors and that how this color was created. Lucys hair was loud and bright and she did not care what people thought. I love her for that. 
 Base Info
Sparkle Sock Stuff- 75% Superwash Merino 20% Nylon 5% Silver Stellina -100g/438 yards per skein
 
Pre-orders will be shipped in 2-4 weeks.
All hand dyed skeins vary slightly. 

Superwash does mean you can machine wash, we highly recommend hand wash in a cold water bath with wool wash. Lay flat to dry.