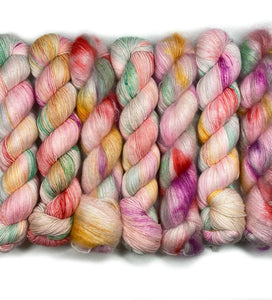 Cotton Headed Ninny Muggins- Mohair Stuff
Variegated light pink with pops of yellow, red, green and purple. Inspired by our favorite Christmas movie, Elf. He calls himself a cotton headed ninny muggins when he finds out he is not an Elf. 
Base Info:
Mohair Stuff - Lace weight 72% Superkid Mohair 28% Mulberry Silk Yarn - 50g/459yds
Variegated

All hand dyed skeins vary slightly. 

 Hand wash in a cold water bath with wool wash. Lay flat to dry.