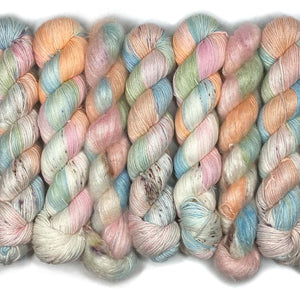 80s Collage - DK Sparkle Stuff
80s collage is variegated with pink, orange, white, blue and green with brown speckles.
Lucy named this colorway 80s collage because she is fascinated with the 80s. I think the 80s seems like a lifetime ago to Lucy. Her mind was blown when she discovered the 80s had color, yes that's right Lucy thought the 80s was all in black and white.
Base Info:
DK Sparkle Stuff- 75% Superwash Merino 20% Silk 5% Stellina - 231yds/100g
All hand dyed skeins vary slightly. 

Superwash does mean you can machine wash, we highly recommend hand wash in a cold water bath with wool wash. Lay flat to dry.